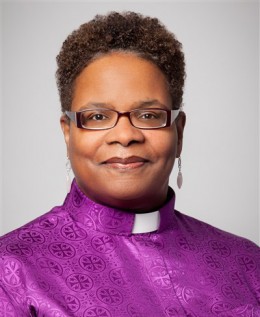 Bishop LaTrelle Easterling, the episcopal leader of the Baltimore-Washington Conference, was named a 2020 Distinguished Alumni by Boston University School of Theology, where she graduated with a Master of Divinity degree in 2004.
She is one of three to receive this honor this year and is joined by the Revs. Allen Ewing-Merrill, executive director of the BTS Center, a thinktank and ministry incubator in Maine; and Cristina Rathbone, an Episcopal priest who serves asylum-seekers as a bridge chaplain in Texas.
"The 2020 Distinguished Alums are extraordinary. They have crafted new paths of ministry with migrants and people living on the streets, local churches, neighborhoods, children, denominational bodies, people living in crisis and post-crisis trauma, and contexts crying for justice and ecological wellbeing," said Dean Mary Elizabeth Moore. "We are honored that they left their marks on BUSTH and now serve as daring witnesses to the "Kin-dom of God."
Bishop Easterling said she is excited beyond belief to be honored by a school she cherishes and that prepared her so well for ministry. "The Boston University School of Theology deepened my ability to reflect theologically, sharpened my understanding of the Gospel's mandate for justice and solidified my love for The United Methodist Church," she said. "I was completely taken aback when Dean Moore informed me, and I am humbled to recognized by my alma mater."
Since graduating, Easterling pastored three congregations in the Boston area, served as a superintendent of the Boston Hope District and Dean of the Cabinet of the New England Annual Conference, and was the first woman bishop appointed to lead the Baltimore-Washington Conference. She was consecrated as a bishop in 2016. During her first quadrennium, she oversaw more than 600 churches; founded Seeds of Security, a ministry for people in crisis seeking to leave abusive relationships; co-chaired the denomination's immigration ministries; and has been a vocal witness — leading, writing, teaching, and preaching — on issues of racism, poverty and ministry to the dispossessed.
A virtual celebration to mark this honor will be held Sept. 16. On that day, Bishop Easterling will preach at the 2020-2021 Matriculation Service for the School of Theology. More information is available at http://www.bu.edu/sth/busth-announces-distinguished-alums-for-2020/